Friday 28th October 2016
This was a sea day but I have totally forgotten what we did. I seem to have lost the Daily Programme which may have helped jog my memory. By reading over the other Daily Programmes I have deducted that this must be the day we went to the movies and watched ' Woman in the Van'. I'd just finished a cup of coffee but hadn't had my usual ice cream lunch. Then I had the idea of having an ice cream to watch the film with, just like the cinema at home. So I filled my tub and carried it from deck 9 to deck 2. I got some strange looks but I enjoyed it!
This was a formal evening, the night of the Elizabethan Ball.
I'd bought an outfit off E-bay. It was far too long so I adjusted it and used the cut off material to make a matching headdress. Mr G wore his Tux.
Once dressed we made our way to the lift foyer and played our game of guess which lift would arrive first.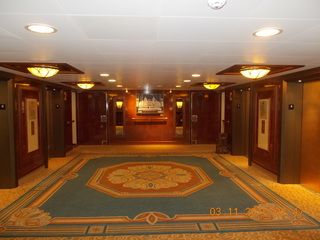 I used the lifts whenever possible to conserve energy levels, however at busy times it was much quicker to use the stairs.
Tonight wasn't too bad and there was space in the lifts. The doors of our lift opened and as we entered people were deep in conversation. As we entered all conversation stopped. I(I did not notice this but Mr G told me afterwards), the lift started moving, then one of the gentlemen said 'very impressive'.
Upon entering the dining room I was the only one dressed in the theme for the evening. I was prepared for this as I'd read it was so on various forums. I thought not everyone here dances, it will be different at the ball. We entered the ballroom shortly before the Ball began. I was relieve to see another person in costume, and then realised it was the Dance Hostess Janice. Later in the evening another couple did appear and both were in costume, tights and all! It was lovely to see someone else taking part in the fun.
After all the discussion on forums re Dress Code on Cunard ships, and all the fuss made by some posters I was most disappointed that the 'Themed' evenings were not adhered to. It did detract from the atmosphere. I was asked quite a few times if I was wearing my 'national costume', each time I replied it was Elizabethan for
The Elizabethan Ball!
Having danced for a while, we sat down for a rest and watched. As we were doing so, one of the Dance Hosts approached me and said ' Madame, you look Wonderful!' That made my night!!