After
completing our first ever cruise on the Queen Elizabeth in October
this year my husband Mr G asked if I would go on another and I promptly replied NO! cruising wasn't for us.
One month later and I'd changed my mind and was longing for another cruise…..the cruising bug has struck. Whilst planning this cruise I visited many cruise forums to glean whatever information I could, read loads of blogs which only fuelled my excitement. With this in mind I took photos during our voyage with the intention of doing my own blog even if it was only a photo blog. When I first arrived home, due to the way I was feeling (all will be revealed), I decided against doing a blog. However now the cruise bug has hit I have changed my mind as it will be my only cruise 'fix' for quite a while.
Our very first cruise ever was on Queen Elizabeth Q619 around the Western Mediterranean October
2016.
We live in the North of England, I have ME and so we decided to break our journey to Southampton up and travelled down over two days. On the Friday night Mr G was checking the booking details and discovered we had been visited by the Upgrade fairy.
We weren't sure if this was a good thing or not.
We had deliberately booked cabin(sorry stateroom) 1077 because it was low down and midships.
We had been upgraded to
balcony stateroom 4186 on deck 4 right at the back (the bows, I believe),
We set off on Saturday 22
nd
October and arrived in Southampton Sunday afternoon.
After booking into the Travelodge we spent some time doing a little pre-Christmas shopping.
It was my first time in Southampton and I was very impressed with the City.
We both agreed it needed more exploring.
For dinner we discovered Stakks Pancake House in the middle of Marlands Shopping centre and treated ourselves.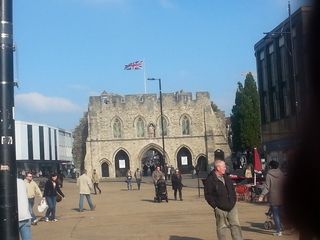 Southampton Gate
My Pancake mmmm!
I hardly slept that night I was so excited, in fact I'd been excited for weeks now but it was hard to believe that tomorrow morning I would be on the QE.
First sight of Queen Elizabeth
From leaving the Travelodge to boarding it took an amazing 40 mins.
Mr G was totally impressed, you don't get that when flying.
After our embarkation photos we proceeded straight to our stateroom and was greeted by Abraham our steward.
Due to the upgrade our luggage had not arrived so we went to explore and grab some lunch in the Lido.
QE is such a beautiful ship with art deco opulence throughout.
Sure enough on returning to the stateroom our luggage had caught up with us.
We proceeded to get the unpacking over and done with – I'd followed Maggiemou's advice and asked for metal coathangers.
There is plenty of space in the wardrobes and drawers under the bed.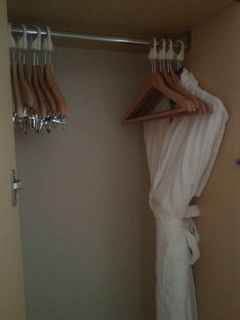 The shower isn't too bad either, had no problems with the shower curtain.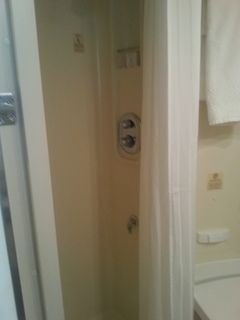 Lots of space for toiletries
It was a quick rush to go for the Safety talk, then back to the stateroom to for a quick change. I had made several outfits and fascinators specifically for the cruise.
I had a dress plan which I attached to the stateroom wall with magnets and referred to each night of the cruise.
It turned out to be a really good idea as some days were hectic and all I had to do was refer to this list.
I had planned my wardrobe so I would wear my tightest fitting outfits first!
Tonight I would be wearing my cream/ivory dress, pheasant fascinator,and a navy bolero. I'd packed 3 pairs of dance shoes which doubled as evening shoes.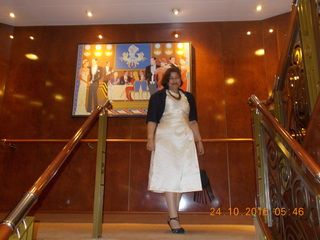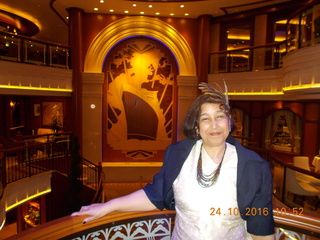 I really wanted to attend a sailaway, especially to say goodbye to Southampton.
We were on early sitting for dinner so I decided I would have to change before the sailaway party.
.
On my way to
the Garden Lounge I had to pass through the Lido where I had my first very warm greeting from Amanda Reid, the Entertainment Officer.
I was pleased to notice I got some appreciated looks from those I passed, which gave me great encouragement.
I love to dress up but I'm not a naturally outgoing person and was not sure how my outfits would go down.
As can be expected in late October the weather in Southampton was a little on the nippy side hence Sailaway was held in the
Garden Lounge.
I admit to being a little disappointed as not many attended and it was a bit of a damp squid.
Perhaps the ones later in the voyage were better but I did not get a chance to attend.
We made our way to the Britannia restaurant with some trepidation.
Mr G had requested a table for 2 on his voyage personaliser, whilst I, unknown to him, had requested a table of 8!
We were therefore a little uncertain as to what to expect.
I'm very pleased to say we ended up on a table of 8 with Eduardo and Kristoph as our waiters.
Our table companions had been very carefully selected and it turned out we were all of the same age group 40's-50's which is quite young for Cunard.
Ourselves and another couple Bev & Paul from Wales were first timers.
Charles & Chris from California had been on one other cruise and Beth and Sandy from Birmingham had been on several other cruises but it was their first time with Cunard.
After that first night Beth and Sandy ate mostly in Lido and so we were essentially a table of 6.
All of us hit it off from the start.
We discovered we all had a love of quizzes and agreed to meet in the Golden Lion later that evening.
We kept this quiz group throughout the voyage, meeting every evening for the late night quiz.
We went to the evening show in the Royal Court Theatre,
then went to the quiz in the Golden Lion.
Our team mates were already there.
We did quite well but afterwards were told there were only 6 members per team allowed we'd had 8.
Future night's this wasn't a problem as Sandy & Bev did not join us.
Finally we hit the dance floor and managed a simple waltz, before heading off to bed.