Thursday 3rd November 2016
It promised to be a fairly unique day, a port day in an unexpected port and also a formal evening.
I decided to try out room service for breakfast today. Everything arrived on time. I'd ordered, cereal, toast and fresh fruit. The pot of tea, though covered with a thickish napkin was lukewarm and un-drinkable.
Our first glimpse of Cartegena viewed from our balcony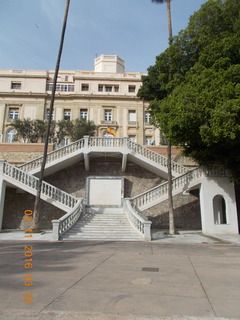 We completed our gift shopping (which we had planned to do in Sardinia), in Cartegena. Mr G now had my cold and I could not talk without breaking into a massive coughing fit. The coughing was keeping us both awake at night, and I just wasn't feeling up to much today.
I went for my afternoon nap but nothing would keep Mr G from his run around the port.
When I awoke it was time to get ready for formal evening, tonight it was the Masquerade Ball. I was surprised that Mr G had not yet returned. I went ahead and got ready sure he would be back in time. About half an hour before sail away he still hadn't returned. I was getting really worried now, was he still on shore? had he fallen and had an accident? What if we sailed without him! I could stand it no longer and phoned the pursers desk to see if Mr G had returned to the ship. They confirmed he had. As soon as I put the phone down Mr G appeared in our stateroom. He explained he had returned ages ago and had gone straight to the gym, it hadn't occurred to him to let me know!
More people participated in tonight's theme than they had for Elizabethan night, though they were still few in number.