Tuesday 25th October
Our first morning aboard began with a blocked toilet, which we promptly reported to the Pursers Office.

I think we must have had a faulty toilet for it was to block a further four times throughout the voyage!
We breakfasted in the Britannia Restaurant.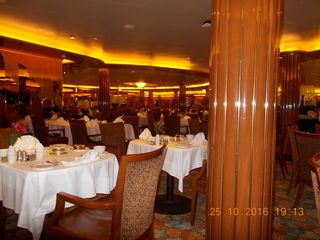 I asked if they had decaff tea and this is what I was given:
Mr G doesn't drink tea or coffee so this was all for me!
This is what accompanied the tea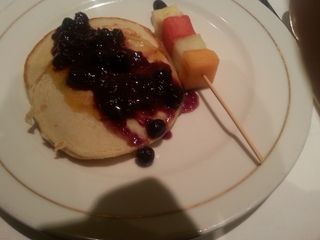 I also tried a full English breakfast but was disappointed with the English bacon. I prefer my bacon well done and crispy.


Once breakfast was over it was back to the stateroom to collect my art things. I'd decided months ago that I would give the watercolour class a go. Bearing in mind I hadn't done any art since leaving 6th Form College many years ago this was a very brave move for me. I did not think I was ready to try watercolour just yet and wanted to start off with familiar materials so I had packed a sketch pad, pencils, charcoal and chalk. The art instructor was quite happy for me to do my own thing and was very pleased I was taking up art again.
Instructors table of Art Resources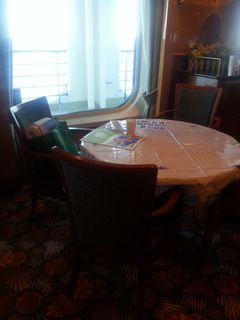 Our work tables
My Efforts
Meanwhile, Mr G had attended the Port Presentation on Cadiz. We met up for lunch in the Lido. I started off with good intentions and had a salad, then I discovered the ice cream machine!
In order to get through this cruise and manage my energy levels I realised I needed to be extra disciplined and made myself have a nap every afternoon (where possible). I wanted to have plenty of energy for dancing. Today however it was a shorter nap because I had to meet up with forum members in the Commodore Club. I arrived about 15 mins earlier than the appointed time as I had given myself extra time to find the Commodore Club. We had agreed to meet on the left handside of the club. I found a table by the large window, settled down and ordered my first softail of the voyage, a Tropicana
The time for the meeting got closer and there did not seem to be any sign of the others. I tried to remember the photos on our roll call so I could recognise people if they turned up. I waited and waited, even checked with the waiters that I'd got the correct side of the Club. No one turned up. I felt very let down and disappointed but decided to make the best of it. I enjoyed my lovely cocktail and I had a great view from the window. As I got up to leave a couple jumped up to grab my table as they said I'd had the best seat in the Club.
Tonight was another informal evening.
After dinner we made our way to the Queens room and enjoyed a few dances until it was time for the show. Tonight it was Tom O'Conner, what a difference in quality compared to the first nights entertainment from the Cunard Singers and Dancers. We then met our team for the evenings quiz. Tonight it was a 'Majority Rules' quiz which is a little like Family Fortunes and we Won!