Thursday 27th October 2016
Our first port day, began much the same as the previous days except slightly earlier. I had got into the habit of watching the morning show whilst getting ready for the day. Breakfast was again in the Lido, we felt it was much more informal and slightly quicker than in the Britannia. Today I decided to try the English bacon again but this time I hid it in a wholemeal bun and enjoyed a bacon butty.
Getting off the ship was a fairly quick, straight forward affair. We had only two excursions booked this voyage and they were for Pompey and Gibralter. Today we were hitting the shops(my favourite type of excursion)!
Cadiz is a very quaint town with lots of narrow streets. It was still quite early and not many shops were open, so we wandered around and got our bearings. Eventually we found the shop we wanted which was open and made our very first purchase .......... a box of paracetemol! The cold had returned. A few shops later I purchased a very nice red jumper. We stumbled on a non-touristy bargain shop and had a wander round. From here we bought a set of place mats (we've just moved house and wanted something new). I love finding items/designs that are not available at home. Just outside this shop was this very unusual tree: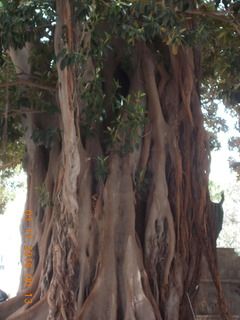 We even found a street lined with Orange trees, I'm sure you could just reach up and pick one, but I didn't try.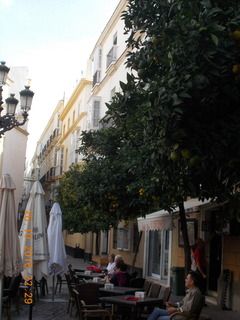 We were back on the ship for an ice cream and coffee lunch, followed by my afternoon nap. Mr G decided he was going to go for a run on dry land. He had come up with the idea of doing a run in each port.
After my nap and Mr G had returned from his run, we watched the sail-away from our balcony.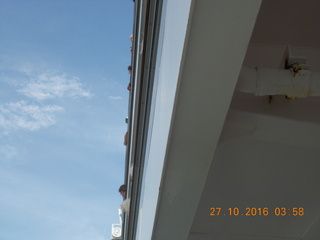 Deck 4 balcony's are a little wider than on other decks so we were able to look up and see all the champagne glasses!
Queen Elizabeth needed a little help.
Tonight was informal night and I wore a pink outfit (originally bought for my daughter' graduation)with the very first facinater I ever made. Mr G wore his Navy suit.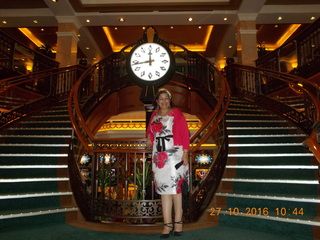 This was taken on the stairs just near the Casino and Golden Lion Pub
This evening's show featured Mark Donoghue, a multi talented musician. It was very good. Afterwards I needed to visit the restrooms just outside the Theatre. Whilst waiting patiently outside Mr G was surprised when a passenger came passed and said to him, ' Thank you, that was a very good show'. A few passengers and thank you's later, it dawned on him that he had been mistaken for a crew member! He was very wary of wearing his Navy suit after that.